If you want your child to succeed at school or university and fulfill their potential, excellent reading skills are a must.
Both fiction and non-fiction books help to boost vocabulary, broaden perspectives, boost critical thinking skills, and bring a great deal of pleasure to schoolchildren. It also supports their skills in other subjects, improves memory and focus, and helps them become more understanding and compassionate humans. Pairing reading activities with the use of Forbrain amplifies these aspects which accentuates the overall growth of the child.
In this short article, we'll take a closer look at the benefits of reading before sharing a few tips on how to promote reading skills for preschoolers, school-age children, teenagers, and university students and how Forbrain can help!

What are the benefits of reading?
Reading provides a wide range of benefits for our creativity, intelligence, concentration, and overall wellbeing. For example, reading...
Helps with cognitive development

- When a child is read to by a parent, they provide them with the knowledge that they use to understand and make sense of the world around them.

While doing this activity, children can wear the Forbrain and interact with the parent or teacher. The feeling of hearing their own voice, slightly louder,

improves their perception and self-awareness, builds reasoning skills, and overall cognitive development.
Grows our knowledge - Books expose us to brand new language and teach us so much about the world. By reading, you're filling your brain with new information that might come in handy one day.

Expands our vocabulary - The more words you are exposed to, the broader your vocabulary will become, even if you never bother to look up the meaning in a dictionary. This can come in very handy when you are at school, college or university!

Boosts our memory - When you read a book, you are creating new connections between different parts of your brain and strengthening existing ones. This helps boost your short-term memory and could make you into a better student.

Improves your analytical skills - By absorbing the details of the book you're reading and forming your own opinions, you're improving your critical reading skills and learning to see the world from a variety of perspectives.

Boosts your focus and attention - When you read a book, you're 100% focused on the content of the story and find that your attention span is much better afterward. In the modern social media age, this is especially important for children and adults of all ages. Reading on a consistent basis while wearing the Forbrain not only helps with enhancing concentration levels but also with productivity.

Improves your writing skills - With an ever-expanding vocabulary and exposure to different writing styles, your writing skills will improve significantly.

Helps you relax - Reading is a great way that kids and adults can disconnect from the stress of their day, get some well-deserved rest, and feel calm. Did you know it can also help you sleep better?
How to support your pre-schoolers reading skills
Children's early exposure to language plays a huge role in their enjoyment of reading and ability to engage and learn effectively at preschool.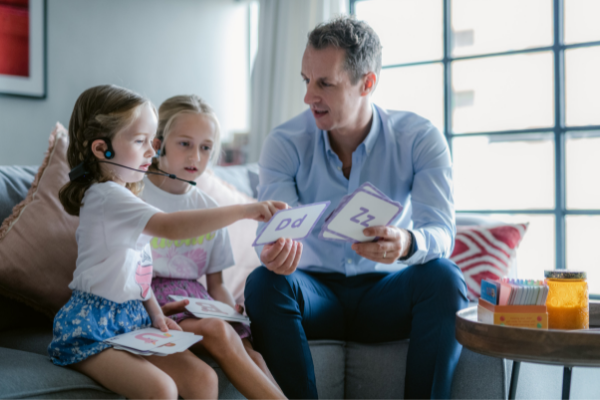 1. Start when they are infants
Talk to your children as much as possible from a very young age, describing what is happening in the world around them. They might not be able to respond effectively yet but you will set the foundations for excellent language skills.
2. Read together
Make storytime a special time of day when you and your family can curl up today, cuddle and relax. Before bedtime is ideal. As you read the story, run your finger below the text so you can help them understand that sentences are made from words, that text is read from left to right in English, and so on. This will also help them identify certain words and support their reading abilities later on.
3. Model a love of reading
Make sure that you read in front of your kids, discuss what you are reading and get them excited about books. Keep the Forbrain headset on them so that they can repeat back the words thereby developing their literary skills. Forbrain provides real-time vocal feedback that encourages clearer speech.
4. Use nursery rhymes and songs
Nursery rhymes and songs help children develop their understanding of the sounds and rhythms of language so sing to them as often as you can. Many towns and cities offer a free song session or storytime that you can take advantage of.
Support your school-aged child reading skills
As your children grow, it's important to continue to read out loud, even if you feel rushed off your feet or just want to collapse on the sofa after a hard day. Find books that get their imaginations engaged, bring them pleasure, and leave them wanting more!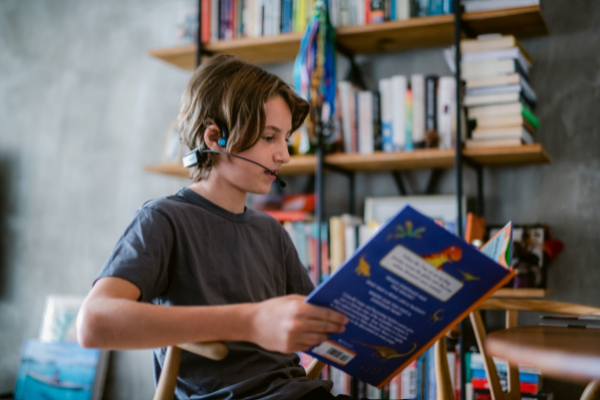 Once they start reading for themselves, you should work with your child's schoolteacher to find the right level of reading material for them. It should be just about their level to challenge them without leaving them feeling overwhelmed.
If your child is struggling to read, consider getting hold of the audiobook version of your chosen book. They can put the Forbrain headset on and connect the jack plug to the laptop or phone on which the audiobook is playing. By listening and following the text at the same time, they will start to make those essential connections between sound and the written word. This will help grow their skills and confidence quickly.
Helping teenagers maintain a love of reading
Getting teenagers to read can feel like a tricky task, especially with social media constantly fighting for their attention. But don't worry- you're not fighting a losing battle. With some creativity, you can maintain your teenager's love of reading, boost their skills and improve their chances of academic success.
Many teenagers choose books that their parents dislike and are met with disapproval. If you want to encourage them to keep reading, you mustn't do this but instead, support their choices and independence. This is a normal part of growing up and won't cause any harm.
Ask them about what they are reading and feel free to ask questions about the content, the plot, and their opinion. This will help boost their critical thinking skills and help in their academic pursuits.
If they're not keen on picking up a book and prefer to be online, why not encourage them to follow blogs, comment on posts and engage with the language that is out there? This may seem like a waste of time but will significantly boost their overall literacy skills.
Getting university students to read
Reading is a core part of the university experience and will affect your child's success. The only problem is that most students are given huge reading lists that they need to plow through as part of their course. Although these books can be fascinating for the student, they can often destroy a student's love of reading.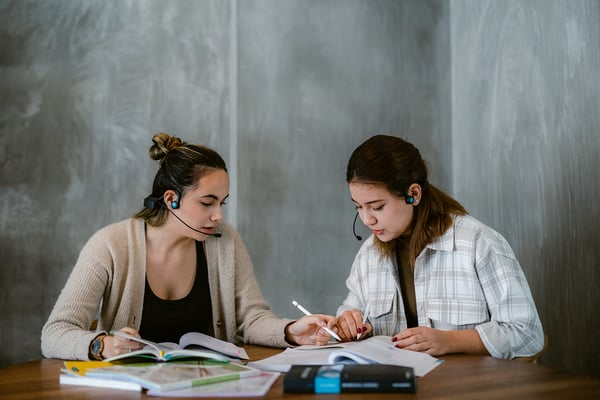 The good news is that you can help them through this. Start by creating a reading corner in your home and make it as comfortable as possible. Then continue to talk about the books you're reading for pleasure and ask them about theirs.
To ease their reading workload at university, encourage them to break down their reading sessions into smaller chunks to make the task more manageable. They should also write notes, ask questions and look up unknown words to boost their vocabulary and improve their critical thinking skills.