Kara Tavolacci, OTR/L, works with children with Autism Spectrum Disorder (ASD) and Sensory Processing Disorder (SPD).
Recently, I had the opportunity to talk with Kara about how Forbrain has worked in her practice, and why she considers it a staple in her therapy toolbox.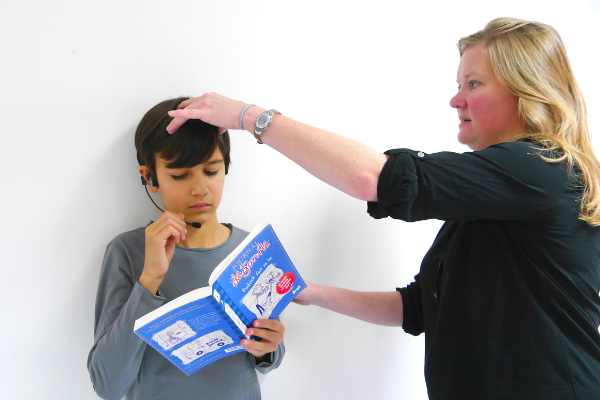 Children with these disorders are dynamic clients that require a therapist who is "on the ball." Each child has different challenges and different therapy needs, which require exceptionally personalized treatment plans. Despite her clients' unique abilities, Forbrain has become a standard complement—and sometimes basis—of treatment plans in Kara's practice.
Kara has been working as an Occupational Therapist for nearly fifteen years. She found her niche working with the pediatric population and soon after, joined many other clinicians who use Forbrain regularly in their practice. Now she practices at the Tomatis Sensory Center in Paris.
"I've experienced it personally, so I know how powerful the voice is."
Kara explains that the success she has experienced using Forbrain in her practice comes mostly from its variety of applications. If a child has an apparent speech or language delay, she may test the use of the Forbrain during the initial evaluation to see how a child responds. In the case of a child without a speech or language delay, Kara can still use the device and observes benefits like:
Decreased vocal stimming (self-soothing vocalizations that may be disruptive)

Improved motor skills during sessions

Modulated rate, rhythm, and intensity of the voice

Improved ability to communicate thoughts to others

Improved attention to tasks
When is a Child with ASD a Good Candidate for Forbrain?
Kara tells me that all patients that walk through the door are potential candidates for use of Forbrain. "Usually, within the evaluation, I'm trying it on to see how they respond to it." Even if the child isn't keen on it on the first try, she's usually talking about it and attempting it within the first few sessions.
It's a little more obvious when a child presents with a significant speech or language delay. In these cases, kids are usually working with a Speech-Language Pathologist as well, and Kara will recommend that a family take the device home to use in their speech sessions. This multidisciplinary approach is a model that is known as invaluable to success in treatment.
How to Introduce Forbrain to a Client
When introducing the Forbrain to a client for the first time, Kara likes to know her audience. Sometimes parents are interested in the technology of the device and want to know about the dynamic filter and audio-vocal loop. Sometimes they just need to know that it helps enhance their child's voice in a natural way, leading to improved brain function. Either way, taking the time to address a parent or client's questions about the device before using it will help improve understanding and willingness.
How Children with ASD Respond to Forbrain
"Children are really into it!" says Kara about children with ASD who use the Forbrain. "They like to pretend they are rock stars." Some children, on the other hand, may need some time to adjust to the experience of connecting and controlling their voices. "The voice is very powerful so it can be overwhelming for kids when they first experience connecting with their voice. Don't be afraid of that, don't give up on it; maybe try it for two minutes then another two minutes until they get comfortable with listening to their own voice." Kara recommends putting it on for a short period of time and increases the duration to build acceptance.
For children who are reluctant at first and are developmentally appropriate, the use of distraction is an option. Kara will engage the child in motor activities (such as bouncing on a ball or swinging on a swing) and quickly place the Forbrain on them and talk about what is happening: "One, two, three, go!"
Using Forbrain During Therapy Sessions to Improve Learning
Occupational therapists like Kara provide therapies tailored to the unique needs of the child with ASD and SPD or other motor-sensory difficulties. An example of how Forbrain can be easily assimilated into these activities is by following a therapy activity with an oral review. During the oral review, the client recalls and discusses the activity that was performed while wearing the Forbrain headphones. Kara says that this strategy has a noticeable effect on recall and attention.
Kara appreciates the importance of following the child's lead when it comes to treatment goals. She's always looking to increase the time that a child uses the Forbrain but takes seriously the ability and willingness of the child to be challenged in a productive way.
Older Children and Teenagers with ASD
Kara has the opportunity to work with children of all ages. With some of the older children, she uses the Forbrain to help improve vocal control, oral reading, and to increase spontaneous verbalizations with people in their environment. Sessions include reading aloud while sitting up against a wall (posture is important!) or
Home Program
A good home program is imperative to improve generalization of skills learned in therapy sessions. This is why Kara likes to do patient and caregiver education during sessions: "I like to have the parents put the device on [themselves] during the session so they can get acclimated to it: it's a much better way for them to learn how to use it."
A typical home program includes recommendations for how long / how often to use the Forbrain, as well as explaining to parents that it's not an additional activity they need to add to their schedule. "I tell the parents that if an older child is doing homework—especially reading homework—they can do it with the Forbrain. [It's] so great because it's flexible and easy to use!"
For younger children, a floor-time model or play-based activity is best. Children tend to increase their spontaneous vocalizations while wearing the Forbrain even when playing alone. Offering a child verbal activities that include turn-taking and eye contact with another person helps the communication become more functional (mimicking the skills they would use in a real-life communication-based scenario).
Building a successful caseload when working with children with ASD can be a challenge in that there is no one-size-fits-all treatment plan. One thing Kara has been able to count on, however, is increases results with the use of Forbrain bone-conduction headphones. And her experiences aren't limited to her clients:
"Personally, I use it myself. I'm not a big fan of public speaking or presentations. I practice my speeches with Forbrain and I also use it because I'm trying to learn French at the moment. If you're listening to recordings, you can turn the microphone to pick up the sounds and then repeat what was said, so it's a really nice tool to use for that sense!"
Learn more about Forbrain and how it can help at www.forbrain.com.

Kara Tavolacci
Kara is an Occupational Therapist, SIPT certified, who has been working for years with several different programs such as Sensory Integration Programs, DIR /Floortime and Listening programs. Kara was integral to the research and development of the Soundsory Program.