Auditory Stimulation Treatment for Dementia
If you're not familiar with the use of auditory stimulation for the treatment of dementia, now may be a good time to familiarize yourself with the potential benefits.
In the past ten years, research has increasingly shown that what we hear through our ears isn't just heard but also changing our brains. Scientists have discovered that auditory stimulation (using sounds such as music, tones, or voices) may provide us with early clues that person is at risk for dementia and as a treatment, can stimulate memories and even slow the progression of the disease.1
With an estimated 5.7 million Americans living with Alzheimer's Disease–the most common form of dementia–there's a good reason to pay attention.[1]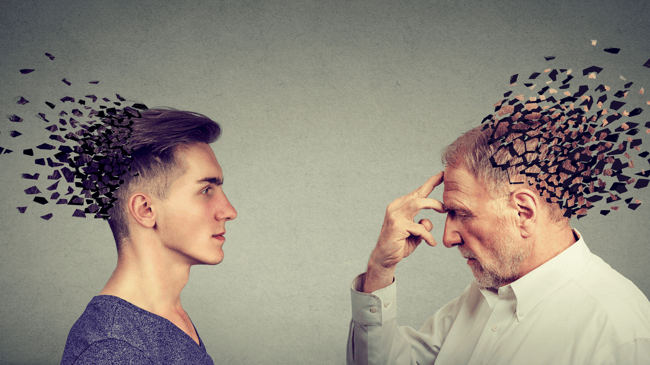 AUDITORY STIMULATION IS DIFFERENT THAN JUST LISTENING
Auditory stimulation is different from passive listening in that its focus is on stimulating the brain, not just the ear. Let's explore that a bit more.
When we hear something, there are several ways we receive this information. One of them is through the physical ear. The ear receives the information and translates it into a message that our brain can receive. Then, in the brain, the signals are sent to several areas for processing. The way the brain makes sense of these signals is not passive, and stimulating these areas has a definitive therapeutic effect.2
The benefits of auditory stimulation for dementia include improvements in:
Alertness

Attention

Memory

Cognitive abilities

Behavior regulation

Verbal communication

Emotional processing

Stress management
THERAPY AND AUDITORY STIMULATION
Speech therapists and occupational therapists frequently use auditory stimulation as a treatment for dementia. Examples include activities based on several approaches:
Rhythmic Auditory Stimulation
RAS is particularly useful for gait training in patients with neurological problems. It uses auditory stimuli such as tones, sounds or music at fixed rhythms, so that patients can coordinate their movements with the sounds.
Auditory Feedback and Stimulation
Auditory feedback is listening to a person's own voice or even movement. There are several devices available on the market to help facilitate the benefits of this therapy. One example is the Forbrain® bone conduction headphones. Forbrain® uses bone conduction (sound transmitted through the bone behind our ears) and a dynamic sound filter to stimulate the brain and improve the way it works. Forbrain® also optimizes the audio-vocal loop, a natural system that is activated as a result of hearing a sound stimulus. When this system is activated, we use parts of our brain related to auditory discrimination, phonological awareness, and others to interpret the information. This loop is the foundation of all auditory learning processes. Using the Forbrain® is as simple as wearing the headset while performing tasks such as reading aloud, singing or listening to music. More information about Forbrain® can be found here.
Auditory Bombardment Therapy
Bombardment therapy requires modeling of words, sounds, and phrases as an adjunct to recasting conversations.
Music Therapy
Music therapy is a particularly accessible and effective form of auditory stimulation. It's said that the benefits of music therapy date back thousands of years to King Saul and a young musician named David from the Book of Prophets. King Saul had been suffering from depression. David played his harp thereby alleviating King Saul's depression through what we now know as music therapy.
The American Music Therapy Association (AMTA) at states that music therapy is a "research-based discipline that actively applies supportive science to the creative, emotional, and energizing experiences of music for health treatment and educational goals."3 The AMTA explains that music therapy aims to maintain a patient's level of physical, mental, and social/emotional functioning, and quality of life. Music therapist Concetta M. Tomaino, in an article published here, describes how music therapy transformed her clients during her work in a nursing home:
We now know from clinical case studies that music can affect—in very specific ways—human neurological, psychological, and physical functioning in areas such as learning, processing language, expressing emotion, memory, and physiological and motor responses.
There are many other forms of auditory stimulation that are specific to the type of deficit being treated. A good overview of other types of auditory stimulation therapies can be found here.
MAKING THE MOST OF AUDITORY STIMULATION THERAPY FOR CLIENTS WITH DEMENTIA
Patients with dementia have different levels of ability as the diseases is a progressive process. Therapy should be tailored to the specific needs of the person, and therapists treating a client with dementia will look for the most effective, efficient, and personalized program available to meet their goals.